Great brands and retailers who strive to stay relevant continue to thrive because they understand their consumers and offer a seamless multi-faceted omnichannel experience.

Retail is changing
Retail is in the middle of rapid and substantial change; change that was predicted well over a decade ago, as many brands and online retailers turned into full-blown competitors. To survive, some retailers adapted measures several years ago and many of them are today's success stories. However, those that did not, now find themselves trying to catch up.
The customer's reliance on the physical location has diminished.
None of this should come as a surprise. Ecommerce has been disrupting the market for over a decade. Technology has revolutionized the shopping experience several times over. Innovation is one of the quickest ways to increase profit. While the goal is to be on the left side of the bell curve, the worst place to be is playing catch up in the adoption of innovative change
As the retail landscape continues to evolve, previously eCommerce only companies are opening physical locations while retail giants are closing doors. It isn't about adopting one innovation but about being adaptable to change and ultimately the driver of the change.
As a brick and mortar retailer your number one goal every day is to get people in the door.

The Advantages of Brick and Mortar
Immediate gratification is a human desire that has a great impact on the shopping industry in general. Currently, brick and mortar stores fulfill that need better than any online retailers can.
As more people shop online and as retailers continue to close stores, customers in brick and mortar stores may find a more satisfying shopping experience. Stores may be less crowded, and have shorter lines at the registers and improved service.
Besides customer satisfaction, people appreciate brick and mortar shopping because of the sensory "touch" experience. The ability to see, touch and feel products as well as take items home immediately rank highest among the reasons consumers choose to shop in stores versus online. In particular, female shoppers overwhelmingly want to see, touch and feel products before buying them. Males, on the other hand, skew more toward the immediate satisfaction of buying and taking home.
Additionally, physical stores offer on-hand warehousing ability as well as brand advertising.
So even in this digital age – Consumers still want to do business with you.
The goal for the brick-and-mortar shops then becomes finding their value and building on that in ways that lead to becoming the innovators.
How can a brick and mortar store do this?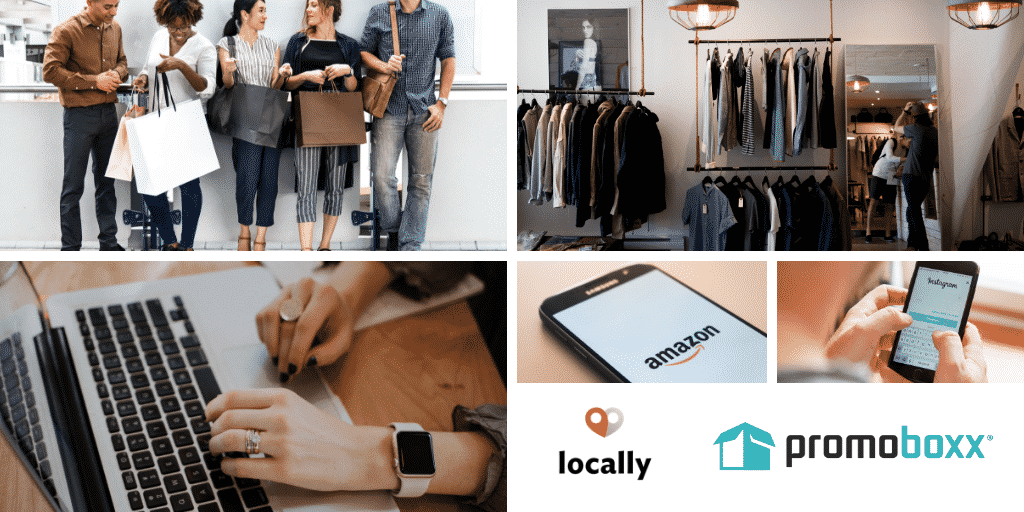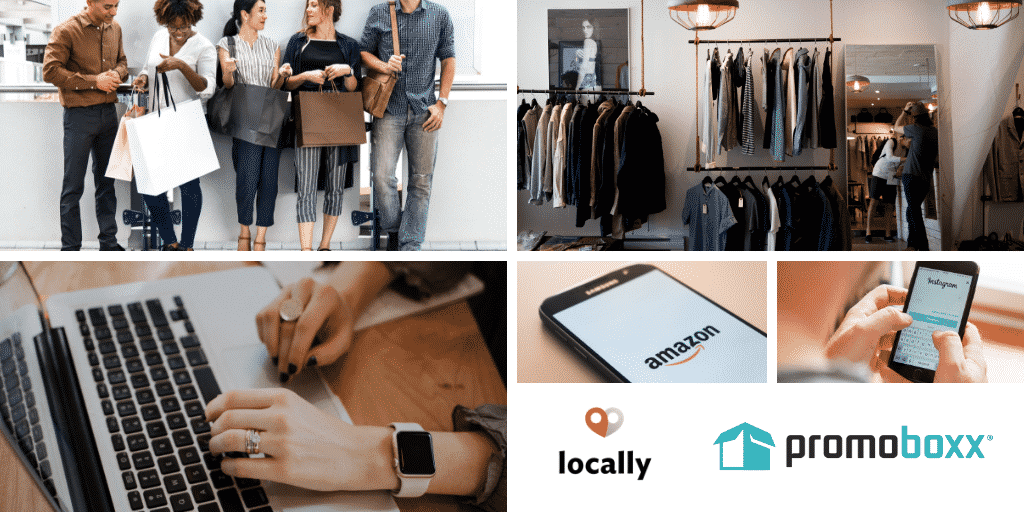 Omnichannel retailing
Omnichannel retailing (meaning, all channels) — is a fully-integrated approach to commerce that provides shoppers a unified experience across online and offline channels. True omni-channel shopping extends from brick-and-mortar locations to mobile-browsing, ecommerce marketplaces, onsite storefronts, social media, retargeting, and everything in between.
As consumer behavior evolves, omni/multichannel retailing is more important than ever. Merchants can no longer focus their efforts entirely on offline or online sales — both are necessary.
Instead of pushing customers where you want them to be, meet them where they already are. More importantly, anticipate their needs during each stage of the buying journey, and help them meet those needs.
Omnichannel retailing is about amplifying your strengths
It's about understanding your businesses strengths and aligning that with your customer. Then meet them where they are and mind the experience. It means making your products available for purchase via more than one outlet – both online and offline.
It's no longer viable to be online only or in store only. Not only do retailers need to have a presence online. You need to have a cohesive experience across multiple channels to allow customers to buy anywhere, anytime.
Retailers who don't keep up risk missing out on the opportunity to capture additional sales.
McKinsey Research and Harvard Business Review collaborated with a major retailer who has hundreds of store across the US for a study that included 46,000 customers who were asked about every aspect of their shopping journey over a 14 month period, focusing on which channels they used and why. This study found only 7% of shoppers are online-only, compared to 73% who use multiple channels throughout their shopping experience. And what's even more telling is the growth in consumers planning to buy online and pick up in-store during the holidays.
Lifecycle of a customer
A study by Patagonia found that less than 1% of customers buy from the same channel every time. First they will buy a product on the brand site. Then buy the same brand on Amazon. Then from a retailers site. And finally in a store. Additionally, they found it took 5 "touches" of the product (which included social media, email, retargeting ads, in-store, etc.) before that consumer was activated to buy. Proving you need to activate as many channels as possible to get that customer to buy.
To further support this data, a Google and Forrester Research study found that if you present your selection online and via social media you will have a 70% chance that those customers will make it into your store within the next 24 hours.
Adopt a digital first strategy
Digital marketing allows the retailer to bridge the gap between their physical store and the "on demand" mentality. And in today's on-the-go world, a mobile digital strategy should be a high priority.
Mobile friendly web is booming. Forrester forecasts that US retail sales via smartphone will grow at a compound annual growth rate (CAGR) of 18% over the next five years. Plus, smartphones will impact more than one-third (or more than $1 trillion) of total US retail sales at some point in the customer journey in 2018.  (Forrester 2018 Retail Best Practices: Mobile Web)
At least 43% of customers have used their mobile phone while shopping in a brick-and-mortar store. 
Google research shows that 73% of consumers will switch from a poorly designed mobile site to an alternative mobile site that makes purchasing easier. And two-thirds of smartphone users are more likely to purchase from brands whose mobile sites or apps personalize the experience based on their location, such as displaying a nearby store where a product is in stock. (Adweek)
But what makes people shop your online store vs someone else?
eCommerce relies on TRUST and PRICE.
Online vs offline
The greatest fear for brick and mortar retailers in this digital age is having their store used as a showroom. A place to try something on or physically touch it, only to have that customer then leave the store and purchase online. This practice is called showrooming. While this may have been a huge issue at the start of the eCommerce explosion, it is not as much of an issue today.
Currently webrooming is a trend that is making waves in retail. Webrooming is the opposite behavior to showrooming. According to a Harris poll, 69% of people webroom while 46% of shoppers showroom. Webrooming is when consumers research products online before going into the store for a final evaluation and purchase.
Although showrooming and webrooming are on the opposite sides of the shopper behavior spectrum, they're both activities that have evolved from the growing accessibility of technology. (i.e. those smartphones we carry with us everywhere)
If you are doing your job right, neither are to be afraid of. In fact, I highly recommend embracing them.

Showrooming
Showrooming occurs because, while many people still prefer seeing and touching the merchandise they buy, many items are available at lower prices online. As such, local stores essentially become showrooms for online shoppers. It's usually seen on higher commitment products that are above a certain price threshold.
Two of the main drivers for eCommerce are lower prices (69%) and free shipping from the online retailer (47%).
A fifth of all consumers use their phones while shopping in stores to make purchase decisions. And a recent study from Omnico revealed that one in ten consumers have used their phone to purchase a product from an online competitor while present in the actual store.
It's all about accessibility
Online retailers can leverage pricing as a huge competitive advantage, especially if they have adopted a loss leader type of pricing strategy like Amazon. Of course not everyone has the cost structure to support this strategy, but overhead for online retailers is lower, which allows them to offer more competitive pricing. The difference is that now consumers have quicker and easier access to this data.
Amazon even has a mobile app for checking prices, which allows you to comparison shop, share the in-store price with Amazon (a smart move on their part to collect more data while they're at it), and purchase the product directly from the app. Their app is just one of many similar ones.
Countering showrooming by simply slashing prices will likely be a losing battle.
The good news
Price comparison isn't the only thing consumers are using their phones for. Often they are searching for product information, user reviews or coupons, or asking for advice from friends and family.
They are nearly as likely to use the store's own website (70%) as another website (75%) to gather product information.
They are also just as likely to use the store's own mobile website or app (22%) as a competitor's website or app (22%) when they choose to purchase online while in a store.
Consumers may still choose to purchase in-store despite finding a lower price online due to convenience, urgency and immediacy.
Consumers do not purchase solely based on price.
Brick and mortar retailers must find creative ways to offer value to consumers that online-only stores cannot. Or embrace the showroom concept by integrating their web and in-store experiences. For retailers who operate in both channels, they can utilize technology to gather data and real time analytics to capture buyer patterns and craft the experience to the customer. They can also customize the experience to engage the customer before, during and after the visit in personable ways. All of these things present new opportunities to create value.
Webrooming
Webrooming is when consumers research products online before going into the store for a final evaluation and purchase. As more retailers switch to multichannel selling and adopt eCommerce this practice is becoming more common. It puts a greater focus on better in-store customer experiences like experiential marketing and immersive brand experiences. Consumers want to work with knowledgeable sales people – the "experts" in the field.
Additionally, in-store amenities and events, smartphone discounts nudging shoppers to buy in-store (proximity marketing) and click and collect options (in-store pick-ups for online orders) will drive traffic to your location.
But what else makes customers want to buy in-store?
According to Cayan customers prefer webrooming over showrooming because:
47% don't want to pay for shipping
23% didn't want to wait for the product to delivered
46% like to go to a store to touch and feel a product before they buy it
36% will ask the store to price match a better price they found online
37% like the option of being able to return the item to the store if needed
So how do you make showrooming and webrooming work in your favor?
Go omnichannel/multichannel
Offering a cohesive customer experience across multiple channels is one key way to encourage shoppers to engage with your brand both online and offline. Although customers like to research online, almost half still prefer to purchase in-store. And retailers with two marketplaces for selling generate 190% more revenue than those with just one. So, if you haven't done so already, it's time to seriously consider multichannel retail. Whether you expand to selling through an ecommerce site, social channels, and/or online marketplaces, build a multichannel strategy that works for your unique brand.
Engage customers with great service and incentives
Human interaction is still a vital driver behind why consumers still prefer to purchase products in-store versus online. 90% of consumers are more likely to buy when helped by a knowledgeable staff member. Great service can go a long way to lure customers and keep them. Building a more knowledgeable sales staff by offering more employee training will increase the chances of that consumer buying in your store.
Neil Patel reported in  The Fastest Way to Lose Customers  that 71% of consumers have ended their relationship with a company due to poor customer service and that once these customers are lost, the average cost to replace each consumer is $243. Retailers can take advantage of this data by increasing interaction between sales staff and customers, ensuring your staff is well-trained on both your products and customer service best practices, and making it easier to return or exchange products (especially in-store).
Engage shoppers opinions
Shoppers are already on their mobile phone when in-store, so why not take advantage of it?
Research shows that 23% already post updates to social media while in-store while 19% have checked in with a location-based service like Yelp or Foursquare.
Why not ask them to like your Facebook page, take a photo with your apparel and use your hashtag on Instagram, or share their purchases on Twitter? You could incentive this through contests, giveaways, coupons, and other creative promotional campaigns.
In this "me generation" where everyone wants everyone to know about all the cool places they go. One of my favorite things to do in shops in tourist destinations is to set up a visual merchandising display that the customer can "get in to" or pose with to post a picture to social media. Make sure there is some signage that includes the name of your store and the location so that every share is an ad for your store.
Also, encourage customers to review both their shopping experience and your products. Mention it at check out. Print it on the receipt. One recent study shows that 90% of people's buying decisions are influenced by online reviews— which only underscores the importance of publishing the opinions of your customers.
Keep customers engaged even after they leave your store
Your relationship with your customers doesn't need to end once they exit your shop. Instead of passively waiting for them to walk in your door again, keep them engaged (and loyal) through a few different tactics, including:
Let customers try on products in-store and buy online at a later date. You could create an in-store app to use that is tied to your website. A virtual "wishlist".
Set up a loyalty program to reward customers who make multiple purchases with promos, discounts, and freebies
Build a post-purchase communication plan to use emails, direct mail, social media, or other means to stay in touch with customers so you stay top of mind
This chart from Columbia Business School shows reward offers that entice shoppers to shop in-store.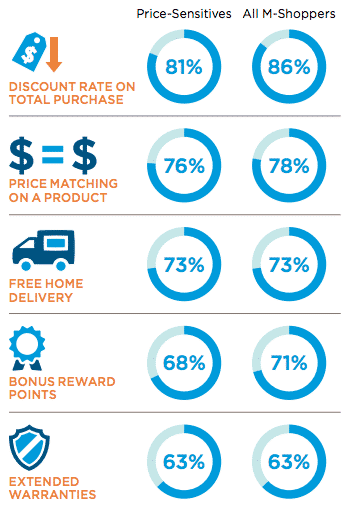 What does omnichannel retailing look like for the Snowsports Industry?
Here's a quick list to help get you started:
Offline Sales Channels
Brick-and-mortar stores
Pop-up shops
In-person selling events (race fit days, swaps, on-snow demos, festivals, etc.)
Distributors/other retail stores that sell your product (i.e. wholesale)
Print catalogs
Online Sales Channels
Online Store/eCommerce website

84% of consumers expect brands and stores to create high quality content (Google 2017 Search Study)

Blogging, Vlogging

Don't always sell. 70% of internet users want to learn about products through content vs traditional ads. (Marketing Design Group Advertising study)
61% of consumers made a purchase after reading a recommendation on a blog (MDG Advertising study)

Social Media Marketing – organic and paid
Email marketing

40% want emails from brands to be less promotional and more informative (Adobe 2017 Email Study)

Locally
Kibo (formerly Shopatron) and Quivers
Third-party marketplaces like Amazon, Etsy, or eBay

44% of consumers go directly to Amazon to search for a product, and Amazon has more average orders than any other third-party marketplace

Coupon sites
Promoboxx
Facebook or Instagram Shop
B2B
Online Reviews
Online Listings and Local Search

75% of people who found local, helpful information in search results are more likely to visit physical stores (2017 Google Search Study)

Loyalty Programs
Retargeting
Comparison Sites (Google Shopping)
Omnichannel marketing strategies for ski shops that work
Although every business needs to understand their consumer, asses their own needs and determine what will work best for them, here are a few strategies that seem to work across the board for many.
Email Marketing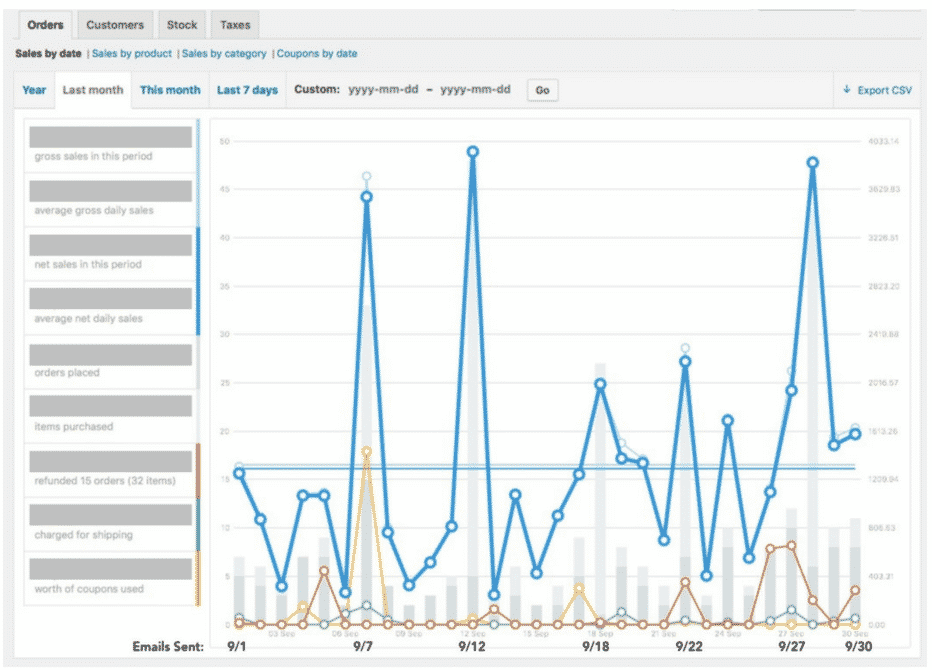 This graph is based on actual data from an online retailer in the ski industry. The blue line on this graph shows the direct correlation between online sales and emails sent.
Blogging combined with email marketing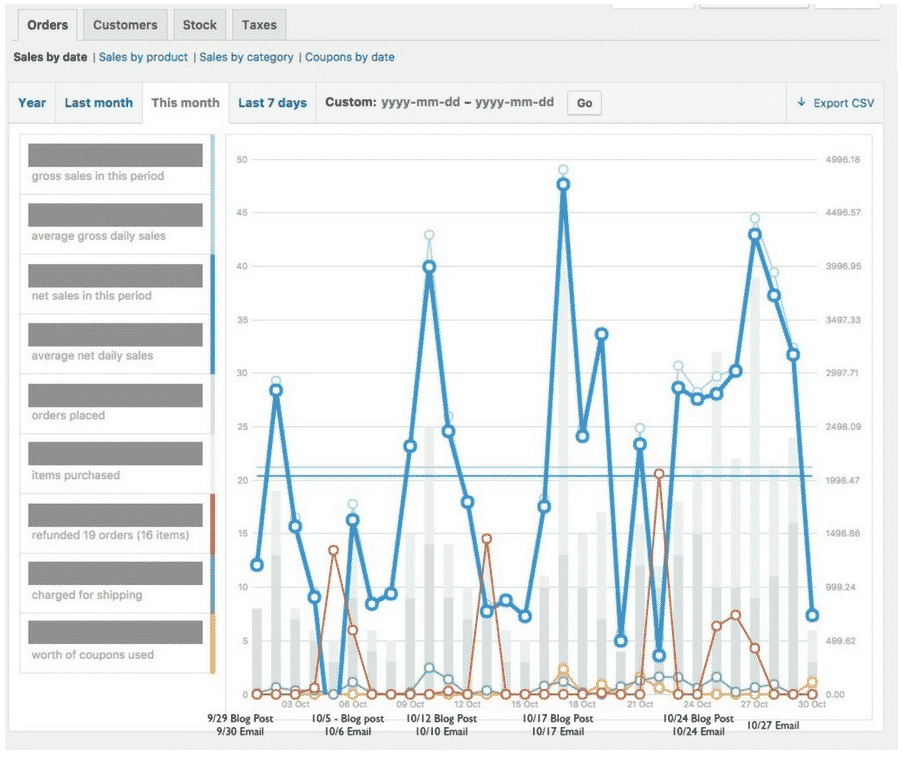 When you combine blogging with email marketing, it not only increases online sales, it improves your website's SEO (search engine optimization). You can see on this graph how blogging and email marketing combined drove sales in this particular month.
Locally
Locally
is a great program that was founded by an outdoor shop owner to alleviate the competition between brands with websites and their retailers. It allows consumers to browse products on the brand website and then see which stores nearby have what they are looking for so they can go buy it there.
Locally understands that there's no substitute for the personal relationships, trusted expertise, or the feel of a product in-hand that local shops provide. It can get your store on the map, into search results and social sites, put your inventory on popular brand sites, and help your customers shop your store from anywhere at any time. It's great for SEO and it puts you where your customers are. And it's free for retailers. The ski industry brands that participate with Locally are too numerous to list. You can find a complete list on their website.
Promoboxx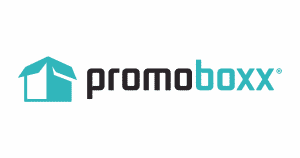 Promoboxx is an online marketing platform that allows you to promote customizable brand marketing content to your business' online marketing channels. It simplifies digital marketing by providing all the content from your participating vendors in one place for you to share.
In the ski industry Smartwool, Nordica, The North Face, Under Armor, Atomic,  Salomon, Dynastar/Lange, Arcteryx, Blizzard/Tecnica all participate with Promoboxx.
Put a digital marketing strategy in place to create immersive experiences
After you've nailed down what channels to use, you should set a strategy and specific goals for each. A strategy helps you define goals against which you can measure success. Goals serve as the target towards which you're working. You can change those goals as new trends emerge or you see success on some channels rather than others. Make sure you determine your metrics for success. Whether it be(number of products sold, overall sales, engagement, clickthrough rates, site traffic, etc. And then set benchmarks to work toward for each channel. Then document everything you want to accomplish, and how you plan to do it. Remember, just like when you started your brick and mortar retail business, this is a marathon, not a sprint.
The keys to a successful omnichannel digital marketing strategy
Know your customer
Start simple
Critically look at how you are marketing
Plan ahead using a Content Creation Calendar
Measure results
Keep evolving, keep up with current trends and keep it fresh
Treat your website as an extension of the store. Pay attention to it – freshen it up regularly, treat it like social media marketing
Layer in more difficult stuff after you have mastered the easier stuff (eCommerce, video, Google Shopping)
Make time for digital marketing – Put it on your schedule!
Use a content calendar to schedule all social media marketing, blogging and email marketing in advance. Build the calendar as you write orders and all summer long as you add products to your website. So when the season hits all planning is done and automatically scheduled to post on it's own.
Consumers are looking for styles and uniqueness
Be aware of current trends, be creative and become technologically advanced in how you deliver your services to their marketplace.
Use niche brands to create unique destinations both online and offline
Use omnichannel marketing to drive them to your location (online and offline)
Make the experience so great that people will want to buy from you when they get there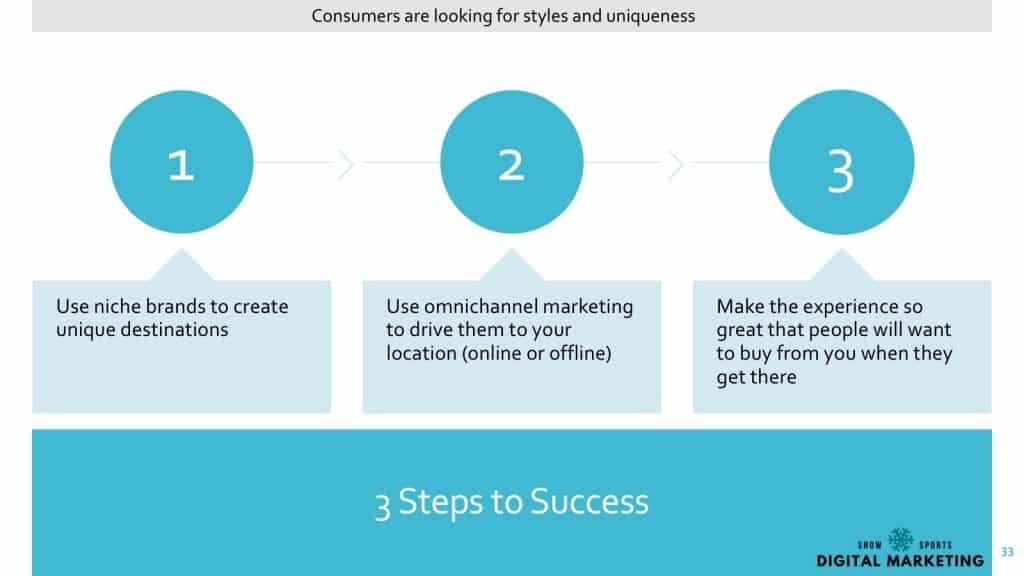 So as you can see, brick and mortar retail is not dead and online retail is not the enemy. Great brands and retailers who strive to stay relevant continue to thrive because they understand their consumers and offer a seamless multi-faceted omnichannel experience.